'It was a thoroughly worthwhile and rewarding read. Prior to reading it I knew of key battles during World War 1, was familiar with place names such as Ypres and Passchendaele and knew of the terrific human cost. Reading the diaries of Sergeant Albert Simpkin gave me a whole new perspective, it was as though a friend was showing me round, sharing their experiences. I actually felt a more personal connection to Remembrance Day this year as a result of sharing, from a great distance, in Albert's experiences.'
Helen Marsay, in email to the editor of 'Despatch Rider' 16 November 2017
This diary gives a truly personal account of such significant events.
.0 out of 5 stA thoroughly good read.
'Amazon customer' on 16 November 2017
A true account by a man who was actually there.  The book is easy to read and informative. The author was clearly not given to glorifying the events, nor did he try to make himself out to be a hero. The attitudes shown are those of a hundred years ago and the book should read with that in mind.
"Old Miseryguts" Amazon 5* review, 19 October 2017
"Reading this book, it was a great honour to get to know this individual's true experience and his thoughts and feelings throughout the Great War. Definitely worth reading by anyone who wants an insight into what the common man went through"
'Peter', 5* review on Amazon, 14 October 2017
"A really good story I believe every school child should read.
I couldn't put it down, it had me hooked."
Dazzak
on Amazon,  20 July 2017
"Excellent read, showing the calm courage and dogged determination to deliver the dispatches come what may, by Albert, for four years!"
M W Flanagan, Amazon, 30 June 2017
"A good read on the perilous life of a dispatch rider in wartime and the life
E C Monaghan, Amazon, 17 June 2017
"A brilliant look into a life within the first world war. I was impressed with the 
leadership and 
courage that seems to come as matter-of-fact as opposed to
something boasted about. It gives 
insights to major battles."
Clinton Williams, Amazon, 11 June 2017
"David Venner has managed to interpret Albert Simpkins' diaries brilliantly and with sensitivity to convey the horrors of the Great War. He has managed to do this without class prejudice."
'Amazon customer', 28 May 2017 
"An extraordinary window on the 1st World War"
Jon Lane on Amazon, 23 May 2017
"A very informative book giving another aspect of life in battle in the Great War. It must have been a hair-raising experience riding an early motorcycle along the roads and tracks of the battlefields. An insight into the deprivation, going without food and very often poor shelter from the rain and snow."
'Lofty' on Amazon, 22 May 2017  
"I cannot imagine another book which gives such a detailed and unflinching look at everyday life around the trenches of WW1. Especially interesting to me as the author must have passed close to my grandfather at times".
'rustydobro' on Amazon, 17 May 2017
"If you value 'bottom up' history of WW2 you will get a lot out of this. In WW1 Signals Companies were part of the Engineers. Communications were by telephone lines (subject to destruction by shelling), radio (which was insecure and primitive), lamps and flags (OK when visible), pigeons, and DRs (dispatch riders). Simpkin was a motor cycle enthusiast before the war who volunteered for Signals dispatch riding because it involved motor cycles.

It was rarely a question of simply going from A to B. DRs had to know where units should be, and to find them if they were not there, often at night with no lights, in all weathers, over broken ground. Initiative was vital.

There are a number of descriptions of situations new to me. For example the exact arrangements for shooting deserters. And the comparative normality of life only a mile or so from the front lines. DRs celebrated Christmas in a local hotel with all the trimmings. Simpkin was good at his job. He admits that if he had been in the infantry he would probably not have survived the war. Even so his work was often very risky and uncomfortable. He was clearly a first rate sergeant."
John Benn, on Amazon, 15 May 2017
"Fabulous, a truly 'great bloke'. Authentic all the way down to the mud-soaked puttees."
George Payne on Amazon, 14 May 2017
"Great book written by an intelligent and perceptive man from an interesting viewpoint, about an aspect of the Great War not usually considered."
'John' on Amazon, 12 May 2017 
"Good read"
'Amo' on Amazon, 11 May 2017
"Very well written, very circumstantial. Gives a very striking picture of what it felt like to be in WW1, not just emphasising the horrific slaughter and destruction."
David J Carroll, on Amazon, 9 May 2017
"A fascinating and engaging account of this brave and intelligent man's experience of war. It was much more real than many accounts. Well worth the read."
'DT', on Amazon, 6 May 2017
"Very much enjoyed this read. The style is descriptive and believable. A really
good insight into a particular job that needed to be done in that war. The
practicality of riding a motorcycle across difficult terrain, 
under fire, to try to
find 
an outpost at the front which had probably moved 
location. Written in a
calm, humane manner by an ordinary man. My most 
enjoyable read this year."
'A
nthony',
 5 May 2017, Amazon
"A great insight into WW1 and the role of the DRs. No drama, just personal
observations. 
A great read and highly recommended."
Colin Younger, 
5 May 2017, Amazon website
"This is WW1 seen from a different perspective, that of the Despatch
Motorcycle rider. The tragedy of this horrible war is still apparent in the book,
but for me it is the glaring anomalies that stand out the most. Why were men
on horseback still charging at men manning machine guns? Why was it that
the Generals and staff chiefs sitting in comfortable requisitioned mansions
miles from the action, eating and drinking the finest put in charge of some-
thing which they were so obviously out of touch? This was mechanised war
fought with a Napoleonic mindset, and of course the PBI "copped" the full
packet. At least Sergeant Simpkin and his Triumph got through it. A book well
Philip Bradley,
5 May 2017, Amazon 
"We need to be so grateful to Albert Simpkin for keeping his secret diaries and to his great-nephew for transcribing and publishing them. They form a superb volume of descriptive, unemotional accounts of his long time close to the action on the Western Front. The very idea of travelling under fire on a 1915 Triumph, in the dark, without lights, on shell-holed ground, beggars belief! I didn't know before reading it that he had served in many places we have visited in totally different circumstances; this made the movements and action so much easier to follow. In all, an excellent book for those with an interest in the First World War and which I  recommend wholeheartedly."
'The Jannie', 4 May 2017, Amazon 
"An interesting insight into the despatch rider's role in WW1. Although with a
little knowledge of the Somme, Ypres etc I had never really considered this
aspect of communication in the conflict."
"A very enjoyable read well documented record of what an awful experience the first world war was by observed and recorded by Albert Simpkin MM. I do like his attitude as to the stupid obnoxious Officer ilk, his critique is spot on ... This is a good read, it is a truthful record kept by a truly intelligent man who survived the war as a dispatch rider, written how it happened as it happened not a glorified autobiography. It is his diary that has been transcribed into book form by a respectful family member. An excellent, truthful, no flannel read, I can certainly recommend this book".
"pcologist"  30 April 2017, Amazon website
"What a humbling read. Such a matter of fact record of some amazing and 
horrific times. Mr Simpkin is everything you could wish to be: courageous
"Excellent read, very good indeed"
R.M.Vernon, Amazon website, February 2017
It's occurred to me over the last few months that diary keeping was frowned upon and against regulations during a large part of the Great War, and the editor of this work remarks upon this in his introduction. Well, considering the number of personal diaries that keep appearing almost weekly, this output from the war must represent the largest mass incidence of disobeying orders in the histories of the Royal Navy and the British Army bar none.
This diary/memoir edited by David Venner is, on the face of it, the standard fare of a Western Front infantry diary. However, this is a diary kept by a despatch rider, a diary kept by someone who had carte blanche to roam and who had the capability of recording what he saw on his daily rounds. In this diary we are not fixed to the routine of trenches, fatigues, support and rest but can travel from the front to the rear, visiting HQs and other establishments on the way. It is therefore slightly removed and gives us a view of the war from a slightly different angle and like many diaries that are currently emerging this one was worked on after the war's end.
Albert Simkin was an apprentice engineer with the marine engine manufacturers Crossley Brothers of Manchester and as such he could have been employed in a number of roles during the war. Considering the need for skilled engineers on the Home Front I'm surprised that he was allowed to leave the company. However, Simkin was a motorcycle owner and enthusiast which prompted him to enlist as a despatch rider and the army welcomed him with open arms. He joined the 37th Division and went out to the Western Front in July 1915 after completing his training and he remained with the division for the duration of the war. The despatch riders bear a similarity to the pilots of the Great War; in fact a number of riders did transfer to the RFC/RAF during the course of the war. Some drank and some rode recklessly and many paid for it with their lives, with accidents claiming lives almost as often as the enemy did. There is of course a 'man and machine' connection here, the bikes gave the riders freedom in the same way that the aircraft gave the pilots freedom and they were both just as dangerous in unskilled or unlucky hands.
Along with the familiar sights of the war there are plenty of 'road' descriptions. Lines of communication clogged with traffic, dead animals and refugees. The roads were bombed and strafed, convoys toiled on the ruined roads and the weather was a constant companion to the riders struggling to deliver their messages. So too was distance, the riders could cover a hundred miles trying to deliver a single message, no mean feat considering the bikes that they rode and the conditions that they met. Unromantically but accurately, the despatch riders, in Simkin's words, were the postmen of the war.
This is a book with a social conscience. Simkin was aware of belonging to a Citizen Army, had a dislike of privilege and was aware of the social differences between officers and men. Although, how much this was a post war construct is unclear. He certainly came into contact with staff officers on a regular basis and he was unimpressed by many of them. His comment, "The Corps General will not use our division as a unit because of our general's ancestry…" made me laugh out loud. Tragically there were generals like that and such men do the rehabilitation of the Great War generals' cause no favours at all. (Witness Hamilton mistrusting a division at Gallipoli because a large number of its officers came from Lancashire mill towns, where, in his opinion, no gentlemen could be found.) I think that it is very probable that Simkin's experience of the war from his position as a despatch rider formed his political and social views. Throughout the diary he gives us his opinions about the battles of the Great War and again I wonder how much of his tactical and strategic insight came from the post war years.
The diary is divided into ten chapters and contains a short index, an itinerary for the 37th Division during the war and a short list of abbreviations. This is a book for bikers, for Great War researchers and enthusiasts. It is witty and grim, sometimes depressed and sometimes cheerful. I enjoyed this book but when one considers that 45,000 words of the original were omitted from the text one wonders what has fallen on the cutting room floor. Sadly, like so many of the Great War diaries/memoirs that are being published at the moment, as the war comes to an end so does the book. The editor obviously had to cut the book down to size for publication (the original is available to view at the Imperial War Museum) but I would have liked to have read more of Simkin's words and learned more about a Despatch Rider on the Western Front. Nonetheless, it is worth seeking out and reading and if you are a fan of Great War motorbikes and vehicles this is a must.
Reviewed by Wayne Osborne for War History Online.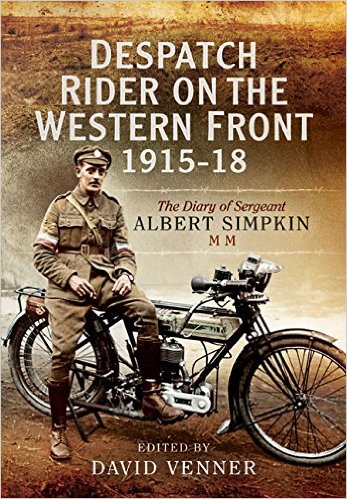 DESPATCH RIDER ON THE WESTERN FRONT 1915 – 18.
The Diary of Sergeant Albert Simkin MM.
By Albert Simpkin MM – Edited by David Venner
Pen & Sword
ISBN: 978 1 47382 740 0
Dr Wayne Osborne is a respected Great War historian who specialises in and writes about British Great War manufacturing and the workforce, Gallipoli, the 17th (Northern) Division and the 10th Battalion, the Notts & Derbys.
Phillippa Crosby on Amazon (5*)
Like many soldiers in the Great War, Albert Simpkin kept a diary, although against army regulations. This book is an edited version, introduced and abridged by his great nephew. It is a remarkable account of his lengthy war service in France and Belgium from July 1915 to early 1919. 

As a despatch rider he had one of the most dangerous jobs, travelling in all sorts of weather and over all sorts of terrain, day and night, to and from the trenches. He and his fellow dispatch riders frequently had to dodge artillery fire in the difficult search for the units to which they were delivering orders. Despite all dangers, he came through without a scratch. It seems that his pre-war experience of motorcycles (he worked as an engineer for Crossley Brothers in Manchester) and maturity served him in good stead. The army soon recognised these qualities by advancing him to the rank of sergeant.

Simpkin writes vividly of the horrors he saw on the Western Front. At the same time there is an intriguing emphasis on what he saw of the air war - dogfights over the trenches and German aerial bombing of Allied positions. There seems to have been a strong interest taken by the despatch riders in what they saw in the skies above them. A number of them applied to be transferred to the Royal Flying Corps. Simpkin also describes vividly the extreme dangers of artillery bombardment. The chateaux in which General Staff officers were often quartered, with their dispatch riders in attendance, were as vulnerable to these attacks as those in more forward positions.

Unlike many former soldiers, Simpkin made the journey back to the battlefields in the 1930s, which provided a further impetus for editing and reordering the notes he had made during the war. It is fortunate as well as a tribute to his outstanding war service that his well-written account of what he experienced has now seen the light of day.

Ian Hay-Campbell
Friends of The National Archives
You'll never feel sorry for yourself again. Or moan about rain.  The 'war' bits of this diary are horrific, not least the greater danger of being mown down by your own trucks. There is comedy though and a scarcely masked disdain for the officer class.
Despatch Rider on the Western Front is a gripping account of Albert Simpkin's experience of the war. The detail in his descriptions, the humour in his anecdotes and the humanity in his observations extends this book to a readership beyond the war/military genre. A great read for all!
There is a growing clamour for personal accounts of first world war experiences and this wonderful book fulfils that brief in spades.  David Venner has done a brilliant job in editing Albert Simpkin's diaries and the end result is a fascinating account of his experiences on the Western Front - a fantastic read and a real and essential contribution to WW1 literature.
You will never read a more factual and revealing book, written by someone who was actually there in the thick of it; and I cannot recommend it highly enough. Order a copy NOW, it's worth far more than the £19.99 asking price.
Excellent vivid description of life on the Western Front. Graphic observations of the hardships and futility experienced by both sides of the conflict. Highly recommended.
Umberleigh author's book tells of haunting memories of a wartime dispatch rider

 

ALBERT Simpkin was born near Manchester in 1885. He was an early motorcycle enthusiast and rode his Douglas Twin all over Britain, both on business and for pleasure. He joined the Royal Engineers in 1914 and served in the 31st Signal Company as a motorcycle despatch rider on the Western Front through to the Armistice.

Albert kept a detailed diary of his experiences during the War. Despatch Rider on the Western Front 1915-18 is an abridged version that was published by Pen and Sword Books in May. It tells of Albert's haunting memories from the frontline during the First World War, captured in the new book by Umberleigh, North Devon, author, David Venner. The rare First World War diary was discovered in Buenos Aires, at the height of the Falklands War in 1982, by the late Mrs Elizabeth Venner, a farmer's wife from Combwich, and has now been published by her son, David.

 

David's book charts his great uncle Albert's exploits as a motorcycle despatch rider for the whole of the First World War, recording more than would have been seen by someone in the trenches.

 

The book has come in for much praise and SV Williamson on Amazon said: "This is a fascinating first hand account of the First World War. The book covers details of the important battles as well as the reality of life for the ordinary soldiers. There are interesting descriptions of French and Belgian farming life which carried on against a back drop of the war, life in the trenches, and the affect of the war on the landscape. It is full of humorous and colourful stories of the daily challenges faced by the soldiers who had to endure many hardships. The diary brings to life the reality and futility of war for ordinary people."

Nick Outteridge on the publisher's "Pen and Sword" website, records: "Excellent read for anyone interested in the First World War. It is amusing and very sad in equal mounts.Laughs and tears, as the four years of war unfold to the final resolution. Highly recommended."

 

David Venner was born and raised on a dairy farm in Somerset. His father's family have farmed in Devon and Somerset since at least 1600 and his mother's family were from Derbyshire (mainly agricultural labourers) and NE France (lacemakers). After graduating from Edinburgh University with a degree in Ecological Sciences, David had a career in Countryside Management, specialising in the management and marketing of national trails. He is now a family history advisor in North Devon, where he also practises rural crafts.

 

He has written two previous books: The Venners of Somerset and Devon (1980, privately published) and Information for a Rural Community (1986, British Library).

 

BOOK SIGNING IN CREDITON

To promote the book, David will be holding a book signing at Once Read, 4 High Street, Crediton, from 10.30am on Saturday 15th August. Copies of the book will be available at the signing. The book is priced at £19.99 and is a hardback of 220 pages. The ISBN is 9781473827400.

 

Alan Quick

 

 
Reading David Venner' s outstanding edit of his great uncle's (who was a motorcycle despatch rider) World War I diary. A nicely written account, refreshingly free of the pro or anti war baggage that tends to denature most attempts to story war. Really recommend it.
Albert Simpkin was obviously a man who used his sense of humour to survive the "deluge of shattered humanity" that surrounded him throughout his time on active service. Whilst "farting mules & exploding sausages" bring a laugh to the reader, the very real horrors of war are expertly described to provide a realistic balance. Cleverly edited so that the real character of the DR is exhibited. An excellent read.
'This is a fascinating first hand account of the First World War. The book covers details of the important battles as well as the reality of life for the ordinary soldiers. There are interesting descriptions of French and Belgian farming life which carried on against a back drop of the war, life in the trenches, and the affect of the war on the landscape. It is full of humorous and colourful stories of the daily challenges faced by the soldiers who had to endure many hardships. The diary brings to life the reality and futility of war for ordinary people.'
4 June 2015
'Excellent read for anyone interested in the First World War. It is amusing and very sad in equal amounts. Laughs and tears, as the four years of war unfold to the final resolution. Highly recommended.'
30 May 2015
'This book contains first-hand accounts of the major battles including the Battle of the Somme, mixing the horror and brutality of war with a soldier's black humour as well as some stinging critical comments about the strategies and tactics employed by the officers.'
28 May 2015
There are plenty of crimes and mysteries to be solved on this month's bookshelf. There's also an illustrated account of the joys of being a new parent and the edited diaries of a wartime motorcycle despatch rider.
| | |
| --- | --- |
| Author | David Venner  |
| Degree | Resource Management BSc (1972) |
| Book | Despatch Rider on the Western Front, 1915-18: The diary of Albert Simpkin, MM (Edited by David Venner) |
Albert Simpkin was born near Salford and worked as an engineer in Manchester before the outbreak of war. He enlisted as a motorcycle despatch rider and kept a detailed diary of his war service. His wide-ranging role enabled him to witness much more than men who were restricted to the trenches. One day he would be dodging shell holes and ammunition limbers to take his despatches to the front, the next commenting on the quaint but often courageous lives of the local populace.
The diary has been skilfully abridged by Albert Simpkin's great nephew. It contains first-hand accounts of the major battles, colourful and amusing anecdotes about his fellow soldiers, and critical comments on the strategies and tactics employed by the officers. Fortunately, Albert was a gifted observer and a fluent writer. The book offers a unique opportunity for readers to immerse themselves in a well-written and objective account of life and death on the Western Front.



Despatch Rider on the Western Front, 1915-18: The diary of Albert Simpkin, MM



April 2015